Zombie Apocalypse Fall Wedding|Buffalo Wedding Photography
Sunday, November 13th, 2016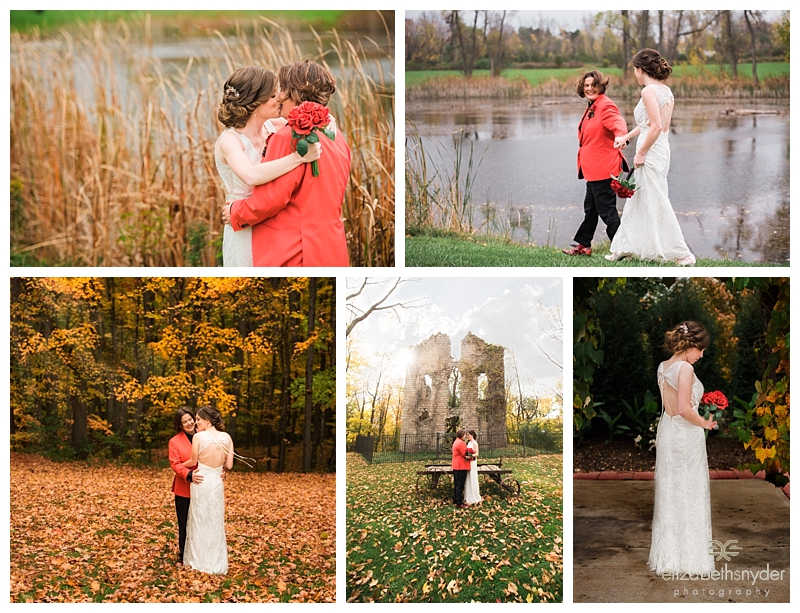 Zombie Apocalypse Fall Wedding
My 2016 busy season closed with an epic wedding! After meeting Racheal a year ago to talk about her wedding plans, I had been looking forward to capturing this day ever since.
This Mrs. and Mrs. zombie apocalypse themed wedding took place on October 29th. The day was incredibly mild and the trees still had their leaves with gorgeous hues of yellow, red, and orange. The day started with Racheal and her bridal party getting ready at The Best Western Plus in Lockport, NY. Racheal's hair and makeup was done by the fabulous Lizzy Dugan. All of Racheal's details fit into the red and black zombie theme. Her handmade coffin ring box, her hand painted blood spattered heels, and red bouquet were all incredibly well done. After putting on her simple and beautiful wedding gown from David's Bridal, we went to visit Shannon and her crew down the hall.
Shannon was nervous, but so excited about her big day and couldn't wait to see Racheal. She was so thrilled about her custom made suit from Bureau and had matching zombie cufflinks and belt buckles to match. Racheal topped everything off for Shannon and her bridal party by making incredibly cool boutonnieres held in 12 gauge shotgun shells. After photographing Shannon, we met them both at the park for their first look.
Shannon and Racheal showed up in 2 different limousines from Affordable Limousine, one black and one white, to meet for their first look. The love these two have for each other is palpable and anyone watching them see one another for the first time had a very tough time holding back tears.
We took portraits at the park, at an old mill, and at Becker Farms as the day went on before the wedding ceremony.
These two beautiful ladies were married at Becker Farms in witness of their friends and family. Shannon's parents walked her down the aisle to the Darth Vader theme. When Rachael was escorted down the aisle to meet Shannon, They were both overcome with emotion.
During cocktail hour, all of the guests enjoyed looking at all of the handmade details that made this zombie themed wedding complete. Place cards were tow tags, The card box was a coffin, centerpieces were zombie hands breaking through planters, favors were personalized knit beanies and amores fixings to enjoy at the late night bonfire.
Racheal and Shannon's cake was made by Sammy's Cakes and Bakes. This amazing work of art had hidden details in every piece. Shanon and Racheal were featured as bad-ass zombie hunters on the top of the cake. Their dogs also had places of prominence. The cake toppers were designed by Garden Ninja.
Becker Farms always has amazing service and food. The staff is incredibly accommodating and made sure these ladies had everything they needed.
As the night went on and everyone danced and enjoyed this incredible day, the floor was asked to be cleared. Guests made a circle around the perimeter and were treated to an amazing rendition of Micheal Jackson's Thriller by Foxy Diamondz flash mob!
Racheal and Shannon, you are an amazing couple. The love you have for each other is perceptible to anyone who sees you together. I wish you a lifetime of happiness and joy.
If you or anyone you know is getting married, please CONTACT us for collection and pricing information!
Other vendors not mentioned in text include:
Jewelry--Fredrick Owen Fine Jewelry, Designer--Mark Berman
Dj & Photo Booth--H&H Entertainment
Videographer--Buffalo Street Media Solutions, Owner and Photographer--Dave Ruszkowsk
Shuttle Service--Grand Tours, Ridge Road Express